Pastor Andy and Kelli VomSteeg
Senior Pastor and Head of Staff - January 3, 2021
After five months, over 400 hours of meetings, almost two dozen interviews, and numerous prayer meetings, the Pastor Nominating Committee invited Andy VomSteeg as the candidate to be the next pastor of Malibu Pacific Church. At 10:30 am Saturday November 7, 2020, Andy and his wife Kelli knelt at the cross in the Worship Center as the PNC laid hands on them and prayed. Andy had just said yes to the invitation. On November 22, 2020 in a Congregational Meeting, the vote to confirm the call of Pastor Andy VomSteeg to be the "Pastor Next" of Malibu Pacific Church was unanimous!

Growing up in Brazil as the son of missionaries, Andy moved with his family to the States at the age of 12. Andy only spoke Portuguese and had to learn English. He is a graduate of Asbury University and Asbury Seminary. Andy has been the solo or lead pastor in three congregations where God has used him to lead significant growth, primarily through conversion, as many have become brand new disciples of Jesus Christ. In two of those churches, he led each congregation in reaching people of different ethnicities, including a small Anglo congregation in Richmond, California, to become fully multi-cultural. His last lead pastor role was in Santa Rosa, California, where he spent twenty-one years seeing a congregation grow from 70 in attendance to well over 900 in attendance again, much of that growth coming through people who became brand new disciples of Jesus. As Andy told the PNC, "we had atheists who sat in the back row for five years who finally came to Jesus and are now elders in the congregation." For the last year, he has been on the Executive Lead team at Menlo Park Presbyterian Church where he has overseen the staff, six campuses, and the virtual service of this mega-church of over 6000 people.

Andy married his high school sweetheart Kelli and they have now been married for 32 years. They have three adult children who all work in the Southern California area. Kelli has a background in Elementary Education and has served in children's ministries over the years, including directing a pre-school.

Andy sees himself at MPC for the next 15-20 years. His ministry philosophy is to create a congregation where unchurched people love to come and engage with other believers and then meet Jesus Christ and follow him. He wants a congregation where unbelievers can ask honest questions, express their doubts, and experience both grace and truth. He believes the local church is to follow their leader to seek and save those who are lost. He sees believers following the teaching of the Apostle Paul in I Corinthians of finding the role God has for them in the Body of Christ and working together with other believers to create a healthy functioning body.
Online Church and Marketing
Since 2014, Joel Dunn has been leading Youth Ministries here at Malibu Pacific Church but as of March 2020 he pivoted into a new role.
Joel oversees the Creative Production and Online Church at Malibu Pacific Church. Joel's journey in Ministry began in 2002 when he was a college student and accepted a Summer Camp job at Forest Home in Forest Falls, CA. After working at Forest Home for 6 years he felt a calling to be a Youth Director so he joined St. John's Presbyterian Church as the Youth Director for 7+ years in West Los Angeles. After his first daughter was born he felt a calling to his wife's home church Malibu Presbyterian [Pacific] Church and joined the staff in 2014. Joel recently has taken on the new role of Creative Production and Online Church to reach The Churched, Un-Churched, and Anti- Church in this new and exciting way. Joel leads in various positions within ministries in Southern California and is currently a Camp Director on Catalina Island at Campus By The Sea. In 2020, Joel earned his Certified Lay Pastor Certificate through the ECO Presbytery. Joel has been married to Shannon Dunn since 2009 and has a 2 children [Penelope 6 and Paisley 4].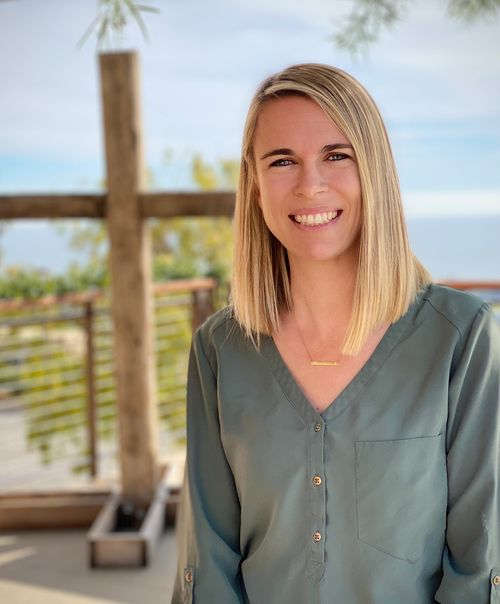 Shannon has been serving at Malibu Pacific in the role of Director of Youth ministry since July of 2019. In her current role, she oversees programs for the 4th, 5th, & 6th grade students as well as in running programs for the 7th-12th grade students. Especially focusing on the discipleship of students and volunteers. Previously, she served as the Director of Malibu Presbyterian Nursery School for 3 years and taught there for 4 years prior to that. She also spent a year on staff at Malibu Pres. in 2004 as the coordinator of Jr. High Ministry. Shannon has been attending Malibu Pres. since she was in 3rd grade (1992) and her relationship with Jesus began while in the 5th grade program at this church. Shannon has a BA degree in Youth Ministry from Colorado Christian University where she graduated in 2007. She is currently working on finishing her Masters of Theology with an emphasis in Youth, Family, and Culture from Fuller Seminary. Shannon has been married to Joel for over 10 years and they have a 4-year-old daughter and a 6-year-old daughter.
Saona Jackson has been on staff as the Director of Adult Ministries since 2016. She oversees a team of interns and servant leaders who coordinate UM (University Ministries), an outreach to local college students. Saona also leads MPC's UpperRoom ministry which is the adult education class that meets on Sunday mornings. Her other responsibilities include overseeing the spiritual formation that takes place in our Bible studies, life-groups, events and retreats, as well as preaching and pastoral care. Before coming on staff at MPC, Saona had experience working at Voice of Hope in West Dallas, Park Street Church in Boston, Imago Dei Church in Portland, Athletes in Action/CRU at Harvard University, and teaching Old Testament and New Testament at Houston Christian High School. Saona received her MDiv from Harvard Divinity School and is currently in the pastoral ordination process in ECO (A Covenant Order of Evangelical Presbyterians). Saona has been married to Drew since 2008 and they have four children, a dog, and a garden in progress.
As members of Malibu Presbyterian Church since 1995, Chris and his family have been active in many of its programs and ministries. Chris has been a member of the Building and Grounds Committee since 1999 and chaired the committee since 2005. He was instrumental in helping the church rebuild after the fire including managing the permitting/planning and construction for the nursery school and temporary church. He chaired the Building Resurrection Committee through the architect selection process in 2008 before stepping away for a break. He was a member of Session from 2004 through 2008 and again in 2016 – 2018. He and his wife Nancy served on the board of Malibu Presbyterian Nursery School from 1998 through 2019. Chris joined the staff at MPC in January 2019 in the part-time position as Operations Coordinator.

Married to his wife Nancy since 1989, they raised their son Andrew at the church where he attended MPNS, children and youth programs and was an active participant in mission activities such as the Baja Build
Wendi joined Malibu Pacific Church in October of 2018 as the Executive Administrator to the Senior Pastor. Before joining the staff at MPC, Wendi was blessed to be a stay-at-home mom for 17 years helping to raise 5 children. Wendi kept herself (extremely) active by volunteering in her children's classrooms, coaching youth sports, and serving on the Thousand Oaks Girl's Softball Board. Wendi has also been very involved in children's ministry over the years by teaching Sunday School, AWANA and VBS at Calvary Community Church. Wendi participated in the launch of Living Oaks Church where she developed the Children's Ministry Program. Prior to her passion for volunteering in children's programs and events, Wendi worked a combined 17+ years in the corporate world where she was the Office Administrator/Sr. Executive Assistant to the Corporate Vice President and General Counsel of UNOVA, Inc., a $6B industrial technology corporation and worked in the same capacity at Litton Industries, Inc. a multi-billion dollar defense company. Wendi has been happily married to her husband, Doug since 1992.
Since 2014, Katie has served as our Director of Children's & Family Ministry. She leads, creates, and teaches Sunday School for all ages: nursery, preschool, and young elementary schoolers. Katie oversee all children's volunteers, and loves to watch them grow as leaders. Katie plans the annual Father Daughter Valentine Dance (February), Malibu Kids Camp (June), and also runs our MOPS (Mothers of Preschoolers) Program. She believes that if every child could experience the love of Jesus at a young age, the world would be a better place! She is passionate about spreading the gospel to all children, and is spearheading a Foster Ministry as well. She has been married to Reese for 7 years, and together they have a daughter named Kadence and another on the way!
Kelly Weber has been serving as Finance Manager since 2010. She works with the Finance and Human Resource committees to budget and steward the church resources and support the staff. She has been a part of the church since attending Pepperdine University and actively involved in missions and outreach. Kelly and her husband Ed build homes in Mexico with Baja Christian Ministries and lead teams to visit church partners in Cuba.